https://www.rte.ie/radio/utils/share/radio1/21723838 
Listen to Johan Verbruggen on the Ray D'Arcy Show at 3pm on 2 March 2020. (Johan speaks at 0:13:08).
Johan recently won the case for Alice Hayes, who, like him, suffers from Erb's Palsy after a traumatic birth, talks about his own birth.
The family's solicitor, Roger Murray, said it was a case which was tailor-made for a Periodic Payment Order.
Read more
The parents of a 9 year old boy with cerebral palsy who settled a High Court Action against the HSE have urged the State to settle such cases early.
Read more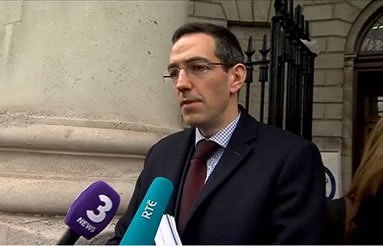 View Roger Murray, Solicitor for the family's case outside the Four Courts on RTE News.
Read more
Cathy and Alan McGrath talk about working with Roger Murray and the medical negligence team of solicitors at Callan Tansey who worked on their case when their son Matthew contracted meningitis when he was 17 years old.
Callan Tansey Pathways to Progress Highlights of the MedicoLegal Conference 2017
"It had never been done before, it's a groundbreaking event bringing patients, doctors and lawyers together in a room and identifying 'Pathways to Progress' ". Roger Murray
Callan Tansey join the Solicitors Sky Dive Challenge on behalf of Spinal Injuries Ireland