Listen here to Brian Gill on Today FM
'This year's Leaving Cert students have received the best results on record, with average grade inflation of 4.4% after the calculated grading system was used.
CAO points will be driven up as a result, but there are concerns that those who sat the Leaving Cert in 2019 and are competing for college places this year will find themselves at a disadvantage.
Liz Daly, whose daughter took a year out after her Leaving Cert and is now applying for college, is worried that she may not get the course she wants. She is looking for logic and fairness to be applied to cases like her daughter's.
Liz was joined on the show by guidance counsellor Betty McLoughlin and Brian Gill, head of Callan Tansey's Commercial Litigation Department and Employment Law, to discuss the situation'.
As featured on todayfm.com, 7 Sep 2020
https://www.callantansey.ie/leaving-cert-2020-the-leaving-cert-but-not-as-we-know-it/
https://www.rte.ie/radio/radioplayer/html5/#/radio1/21834773 
The family's solicitor, Roger Murray, said it was a case which was tailor-made for a Periodic Payment Order.
Read more
The parents of a 9 year old boy with cerebral palsy who settled a High Court Action against the HSE have urged the State to settle such cases early.
Read more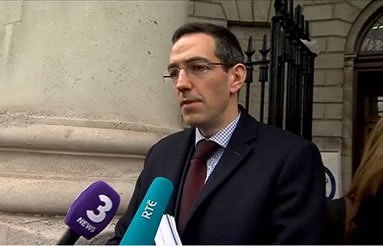 View Roger Murray, Solicitor for the family's case outside the Four Courts on RTE News.
Read more
Cathy and Alan McGrath talk about working with Roger Murray and the medical negligence team of solicitors at Callan Tansey who worked on their case when their son Matthew contracted meningitis when he was 17 years old.
Callan Tansey Pathways to Progress Highlights of the MedicoLegal Conference 2017
"It had never been done before, it's a groundbreaking event bringing patients, doctors and lawyers together in a room and identifying 'Pathways to Progress' ". Roger Murray